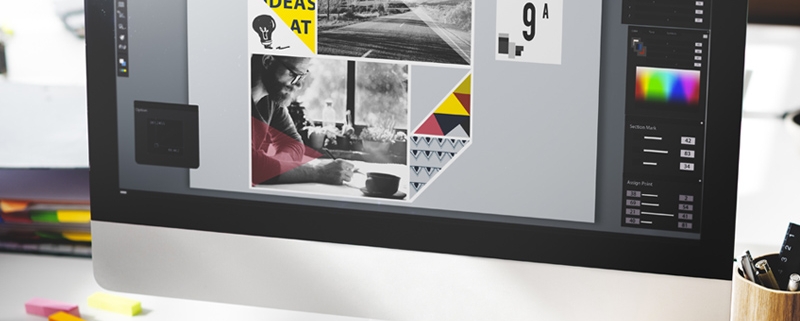 As email marketers, we are always trying to find the best ways to make sure our emails are the very best they can be.  Gone are the days where you could send a test email to your inbox, sign it off and send it out.  Now more than ever, we have to be extra vigilant with our emails, making sure get into our customer's inboxes, and that they look good when they arrive there. But with so many tools available and more cropping up all the time, how do we separate out the good from the… not so good. Luckily, the Enabler team are here to provide you with our expert opinions on the tools on the market now.
Our Top Five Email Tools to help you get the most out of your campaigns:
Photoshop is design software that falls under the Adobe Creative Cloud – which means if you already have a creative cloud log in, you can access all of your assets and imagery from inside Photoshop. The programme itself is very intuitive and provides a host of different ways to achieve your goals. It enables email designers to produce beautiful creatives and maximise their potential.
Adobe are always updating the product (you can check out their update timeline here). Photoshop allows you to work across desktop and mobile devices to create the best looking emails you can, making it probably the best software out there for creating great email design.
Price-wise, you can get the full 20+ creative desktop and mobile apps in Adobe Creative Cloud for £45 per month or you can just go for Photoshop which is £17.15 a month.
View the full breakdown of pricing here.
Photoshop is a creative tool we highly recommend investing in if you want to create visually stunning, engaging emails that drive clicks.
Dreamweaver is a fast, flexible coding engine designed to give developers the freedom to code emails that look brilliant on any size screen.  Dreamweaver is extremely intuitive, and is a suitable choice for any email marketer, whether you are new to coding or have years of experience.  The coding engine offers code 'hints' for new users and works with the developer to keep code clean, reduce errors and improve readability.  It has three main view screens, code, design and side-by-side.  This is incredibly useful as it allows you o see how your code is affecting the design.
A new feature we love is 'snippets'.  Snippets are sections of code (e.e. headers, footers or images with text) which you code once, then save for use later.  When you next have a template that needs that snippet in it, you can easily drop it in, making development faster and more accurate.
Dreamweaver has the same pricing structure as the rest fo the Adobe Creative Cloud, so you can own it for just £17.15 a month.
Litmus is an email testing tool which allows you to check how your emails will look across a wide variety of email clients and apps.  The main thing we love about Litmus is that it saves you from having to create test email accounts across all email clients, allowing you to test everything in one central place.
You can test everything from link tracking to email load time.  They even have a section of the tool called 'checklist', which is essentially your pre-flight check before sending your email.  It will help you catch broken links, optimise loading speed and check how your email works with images on and off.  This section is fantastic – especially as it allows you to choose which browsers and clients you want to see.  It covers desktop, mobile and tablet – we couldn't recommend it more.
Litmus also has its Community Area, where you can ask questions to hundreds of other developers and share in each other's  experiences to make your emails even better.  They also produce emails themselves which keep you up-to-date with the latest email trends.
Litmus does offer a free 7 day trial, but after that prices range from $79 a month to $399 a month (for the Brits out there, that's approx £63 – £320 a month).  They do have a pricing option where can tailor your package, so it only contains what you actually need; like an email pick'n'mix.
Send Forensics is an email deliverability tool that focuses specifically on making sure your emails hit your customer's inboxes. It's very advanced, and works to safeguard your email reputation and boost engagement.
You can run a free email deliverability test that will score your email and tell you the percentage will end up in spam, however to get the full features it costs $49 a month.
Once you sign up to the full features version, the software not only gives you a deliverability score, but what elements of your emails are trigger spam – whether its due to your content or the technical makeup of your email, for example if there is no SFP set up.
(Here's some tips on avoiding spam filters)
It will mark your vocabulary and copywriting, judging words you've used and highlighting any negative one that are hindering your deliverability, and offers you alternative phrases to use instead.  It also highlights any positive keywords to demonstrate the phrases helping your email deliverability.  Send Forensics will even rate your copywriting tone of voice in determining whether you are being overly promotional or conversational in your tone.
One of the really standout aspects of Send Forensics are all the technical checks it undertakes when examining your email.  Not only will it check the image:text ratio, and inspect the quality of the links you provide, it will also dive under the skin of your email set-up, domain authority and IP address to check your sending reputation, noting any sites that have blacklisted your IP or technical problems that might be hindering you reaching the inbox.
All this might sound very technical, but Send Forensics is anything but.  The software is exceptionally user friendly, and offers advice on how to undertake any actions it suggests, making it an ideal solution for email newbies.
Email on Acid is another email testing tool that will help you make sure your emails look great across devices and clients.  It provides coding tips and marketing guides via their blog, and also has a forum where you can post techniques and questions to other email developers – however if this is one of your main uses, we would probably recommend going with Litmus as they tend to provide answers faster.
It comes in cheaper than Litmus at $45 – $295 per month, however unlike Litmus they don't provide a custom tailored option, meaning you have to take everything in each package.  Both LItmus and Email on Acid's basic package come with one user, but Litmus' most popular package comes with five users, whereas Email on Acid only has the one user account.  E
Email on Acid is a cheaper alternative if you are a small business with only one users, but if you're a bigger business, definitely opt for Litmus.
https://storage.googleapis.com/product-enabler.appspot.com/1/2017/07/image_077.jpg
675
800
Sophie Graham
https://storage.googleapis.com/product-enabler.appspot.com/1/2018/09/enabler-logo.png
Sophie Graham
2017-02-21 11:00:39
2018-12-07 13:53:58
Top five email tools